D.H. Lawrence Lecture
The UNM Alumni Association in partnership with the D.H. Lawrence Ranch Initiatives and the Department of English Language and Literature proudly present the annual D.H. Lawrence Lecture. This lecture series celebrates D.H. Lawrence, British novelist, poet, playwright, essayist, translator, literary critic and painter, whose genius was not truly recognized until after his death. In an obituary, E.M. Forster named him, "The greatest imaginative novelist of our generation." Lawrence's dialog with nature, humanity and the human condition is revealed to us in the inimitable way in which he accesses language to delve deep into the human soul while preserving the mystery that is man/woman/nature.
This Year
Andrew Harrison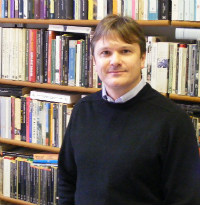 Harrison is the director of the D.H. Lawrence Research Centre in the School of English at the University of Nottingham. Harrison is also a council member of the D.H. Lawrence Society of Great Britain, and a member of the D.H. Lawrence Society of North America. Harrison has worked with the local, national and international media to raise the profile of D.H. Lawrence and his links with The University of New Mexico and region.
This lecture consisted of two presentations:
Thursday, April 5, in Albuquerque: 
Harrison presented on one of D.H. Lawrence's most controversial short stories, 'The Woman Who Rode Away." Harrison's lecture discussed the story's reception by both feminist and postcolonial critics, showing how our changing understanding of it reflects broad cultural trends and accompanying shifts in Lawrence's popular and academic reputations.
Find the link to the full lecture here.
Saturday, April 7, in Taos: 
Harrison presented, "The Life of D. H. Lawrence: A Critical Biography," which addressed several readings from the biography paired with interesting and amusing anecdotes about his new research.
Find the link to the lecture here. 
Past Events
2017 - Mark Doty
Doty is the author of nine books of poetry, including "Deep Lane," "Fire to Fire: New and Selected Poems," which won the 2008 National Book Award, and "My Alexandria," winner of the Los Angeles Times Book Prize, the National Book Critics Circle Award, and the T.S. Eliot Prize in the UK.