The Anaya Lecture on the Literature of the Southwest
Thanks to a generous contribution from the renowned fiction writer Rudolfo Anaya and his late wife Patricia Anaya, the UNM English Department established the Rudolfo & Patricia Anaya Lecture on the Literature of the Southwest in 2010. The annual lecture series brings together students, faculty, and community members to address the rich traditions of Southwest literature and new directions in literary and cultural scholarship for our dynamic region.
The annual Anaya Lecture is free and open to the public.
This Year
2019 Rudolfo and Patricia Anaya Symposia on the Indigenous Southwest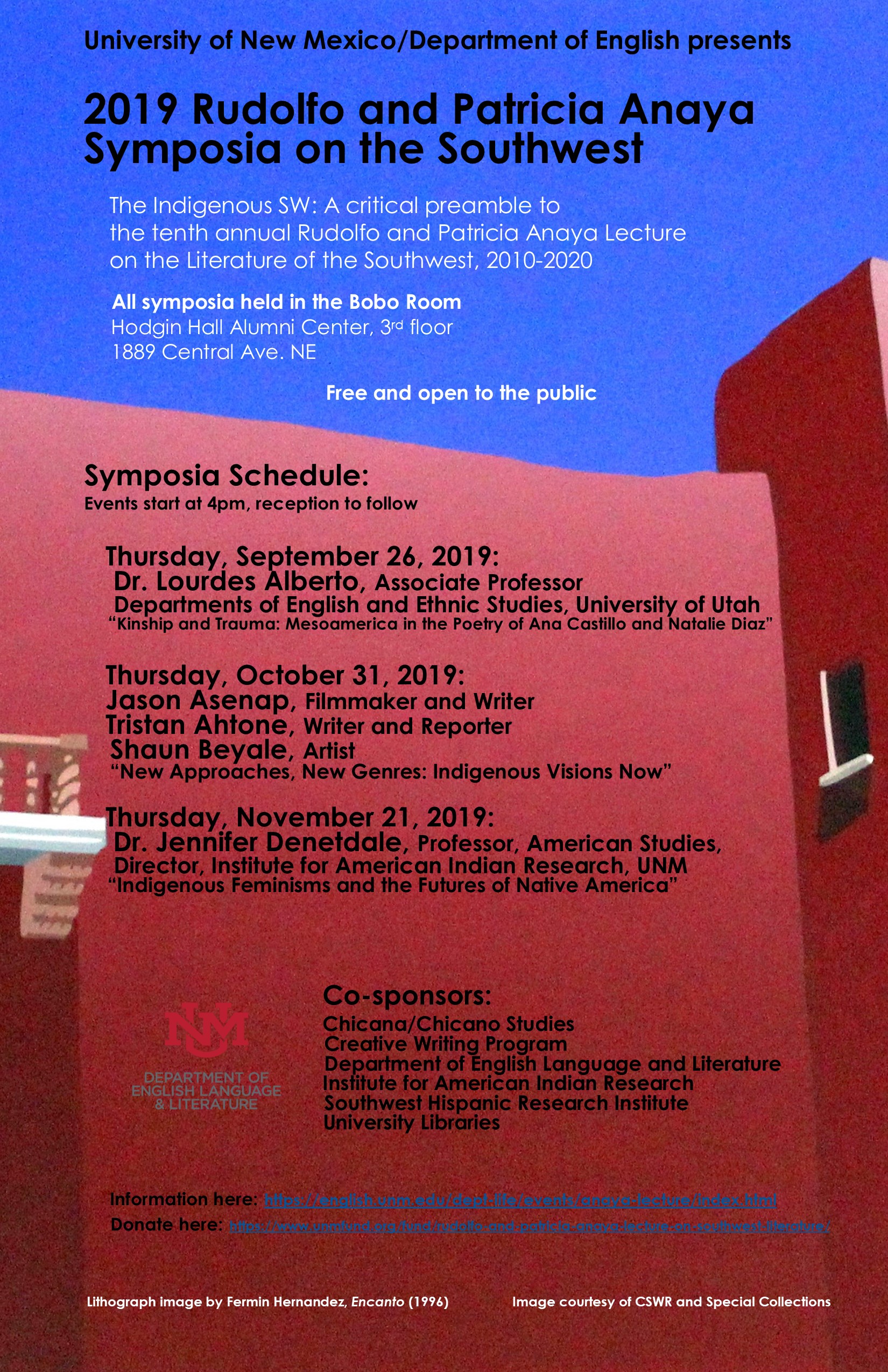 Thursday, September 26
Thursday, October 31
Thursday, November 21
4pm in the Bobo Room, Hodgin Hall Alumni Center, 3rd floor
The Department of English is hosting a series of symposia this Fall 2019 on Indigenous research, art, and activism in the Southwest and in anticipation of its tenth annual Rudolfo and Patricia Anaya Lecture on the Literature of the Southwest.

Thursday, September 26: Dr. Lourdes Alberto will deliver the first lecture, "Trauma and Kinship: Mesoamerica in the Poetry of Ana Castillo and Natalie Diaz." Dr. Alberto is a Zapotec indigenous scholar, born and raised in Los Angeles, and an Associate Professor of English and Ethnic Studies at the University of Utah. Her research interests focus on Indigenous and Latino/a Studies, and she has published in Critical Ethnic Studies, Latino Studies, and in the volume Comparative Indigeneities in the Americas. Dr. Alberto's book, Mexican American Indigeneities, is a comparative study of Chicanas/Chicanos and Zapotecs, two transnational Mexican American populations whose discourses about indigeneity are indispensable to the construction of ethnic, political, and cultural identities of Latinas and Latinos in the US.
Thursday, October 31
: Our second symposium, "New Approaches, New Genres: Indigenous Voices Now," will feature Jason Asenap, a Comanche and Muscogee Creek writer, director, and occasional actor based in Albuquerque, NM. He holds an MFA in Screenwriting from the Institute of American Indian Arts in Santa Fe, and his films have screened around the United States, in Canada, Finland, and New Zealand. In addition to film, Asenap contributes thoughtful journalism, primarily about Indigenous contributions to film, art, and culture in
High Country News
,
First American Art
, and
Indian Country Today
. Asenap will present alongside Tristan Ahtone and Shaun Beyale, with whom he collaborated to produce the graphic novel,
Nizhóni Girls
. Ahtone is a member of the Kiowa Tribe, Associate Editor for Tribal Affairs at
High Country News
, and president of the
Native American Journalists Association
. Beyale is of the Navajo Nation and an artist who does Illustrations, paintings, screen printing, and digital work.

Thursday, November 21: Dr. Jennifer Nez Denetdale, Director of the Institute for American Indian Research (IFAIR) at UNM, will deliver the final lecture, "Indigenous Feminisms and the Futures of Native America." Dr. Denetdale is Diné from the Navajo Nation, a Professor of American Studies at UNM, and the author of Reclaiming Diné History: The Legacies of Navajo Chief Manuelito and Juanita (2007). She has also published two books for young adults, and numerous essays, articles, and book chapters. Dr. Denetdale serves on the Navajo Nation Human Rights Commission (NNHRC) and currently serves as its chair. She has received the Rainbow Naatsiilid True Colors award for her support and advocacy on behalf of the Navajo LGBTQI, as well as the 2013 UNM Sarah Brown Belle award for service to her community.  In 2017, she received the UNM Presidential Award of Distinction.
Hodgin Hall (HODGN #103) is located at 1889 Central NE, where handicap parking is available. Metered parking is also available on Redondo Rd. South and across campus on Central. Visitor parking is available near the UNM Welcome Center for a flat rate of $5 after 3pm, located on Redondo Rd. South (#198 on the map).

Click here to see the university map
.
Past Events
2017 - Nora Naranjo Morse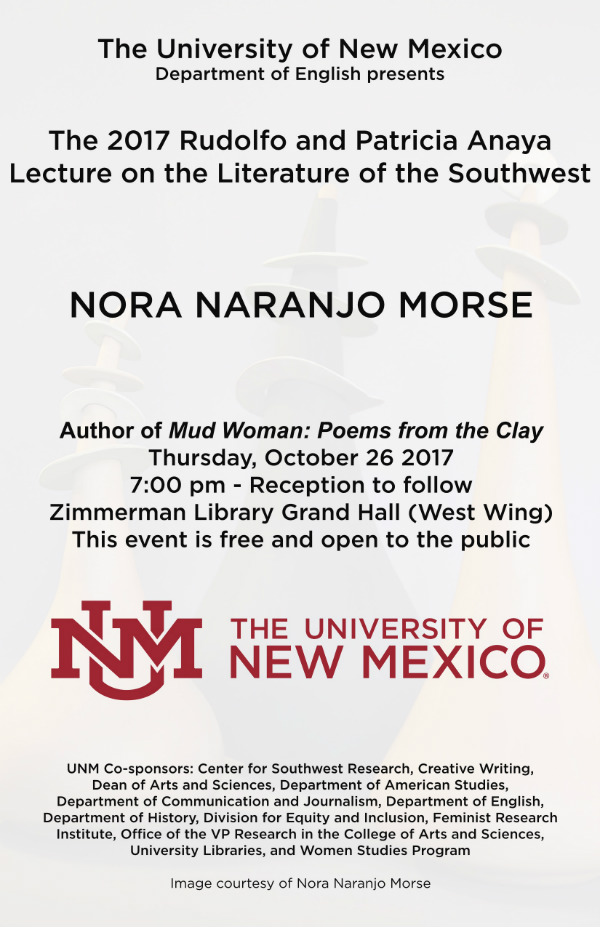 Nora Naranjo Morse is an internationally known sculptor, poet, filmmaker and producer of films on Pueblo life and culture. Her work has been exhibited nationally and internationally, including at the Heard Museum, the Smithsonian, and at the National Museum of the American Indian, where her hand-built sculpture piece, Always Becoming, was selected from more than 55 entries submitted by Native artists as the winner of an outdoor sculpture competition in 2005. She is the author of the poetry collection Mud Woman: Poems from the Clay (1992), which combines poems with photographs of her clay figures.
2016 - Rigoberto González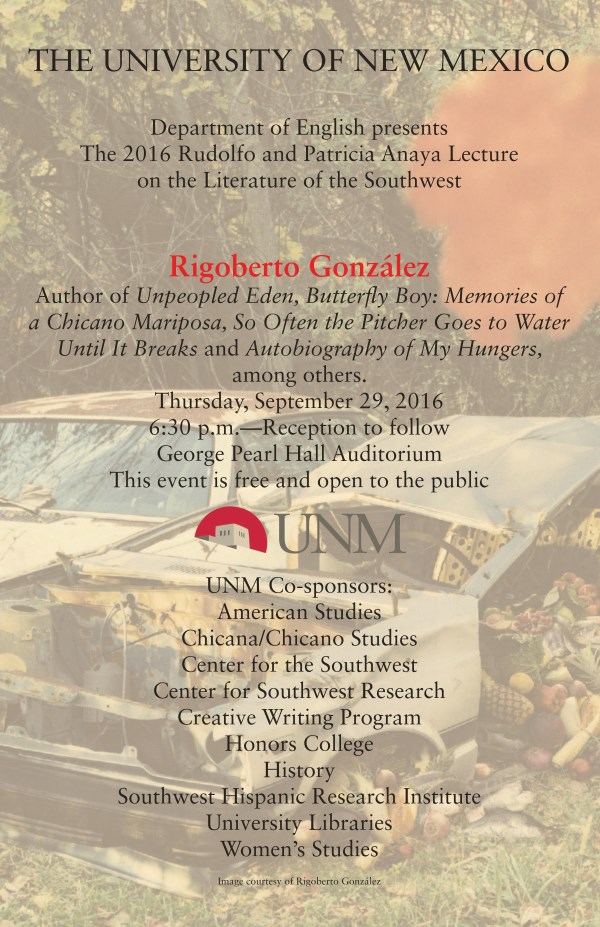 Rigoberto González is the author of fourteen books, including four books of poetry; ten books of fiction; a collection of short stories; two bilingual children's books and a series of young adult novels; and three books of nonfiction. His first poetry collection, So Often the Pitcher Goes to Water Until It Breaks (1999), was a National Poetry Series selection, and his recent poetry collection, Unpeopled Eden (2013) was the winner of the Lambda Literary Award and the Lenore Marshall Poetry Prize. His first memoir, Butterfly Boy: Memories of a Chicano Mariposa (2006) won the American Book Award from the Before Columbus Foundation.
2015 - Anne Hillerman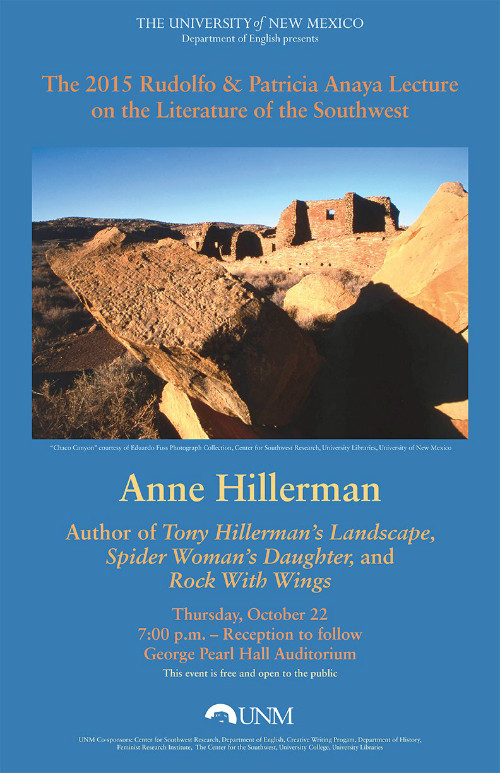 Anne Hillerman is the author of eight published non-fiction books and has worked as an editorial page editor, arts editor, and food critic for the Albuquerque Journal and the Santa Fe New Mexican. Anne Hillerman's first novel, Spider Woman's Daughter (2013), made the New York Times bestseller list and received the 2014 Spur Award for the Best First Mystery from Western Writers of America. The book also received two New Mexico-Arizona Book Awards for Best Book and Best Mystery of 2014. She recently published a second mystery novel, Rock With Wings (2015), and is currently working on a third.
2014 - Ana Castillo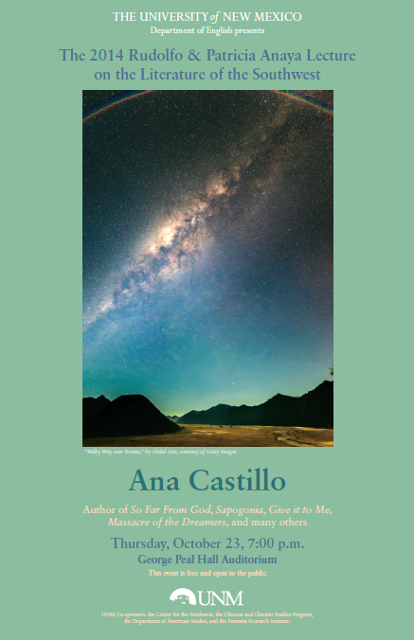 Ana Castillo is one of the leading figures in Chicana and contemporary literature. A celebrated poet, novelist, short story writer, essayist, editor, playwright, translator and independent scholar, Castillo is the author of the novels So Far From God and Sapogonia, both New York Times Notable Books of the Year, as well as The Guardians, Peel My Love like an Onion, and many other books of fiction, poetry, and essays. Her most recent novel is Give it to Me, and the 20th anniversary edition of her groundbreaking book The Massacre of the Dreamers: Essays on Xicanisma will be published this October by the University of New Mexico Press.
2013 - N. Scott Momaday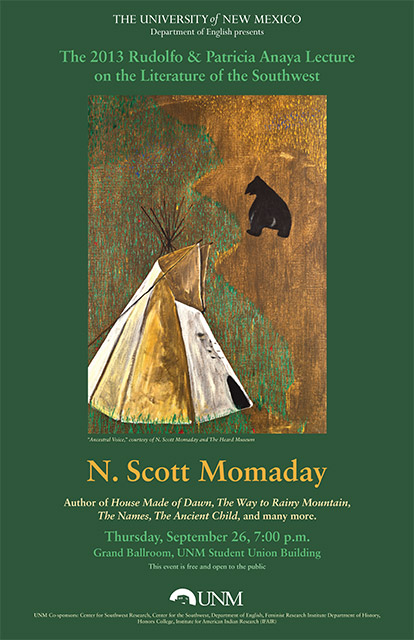 N. Scott Momaday is one of the most distinguished writers of our time. His first novel House Made of Dawn was awarded the Pulitzer Prize in 1969, an event that brought new visibility to American Indian literature and literature of the Southwest, a landscape that has inflected his fiction, poetry, and paintings for decades.
For a complete listing of the entire series of Anaya Lectures, please see the
Lecture Archives
page.
Rudolfo Anaya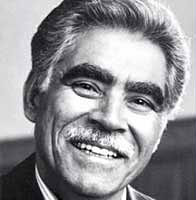 Born in New Mexico in 1937, Rudolfo Anaya is a foundational figure in contemporary Chicana/o literature. His critically acclaimed novel Bless Me, Ultima has reached a broad global audience since its initial publication in 1972. Set in rural New Mexico in the 1940's, the novel addresses land, language, and cultural identity through the story of a young boy's relationship with the curandera named Ultima. The novel was selected by the National Endowment for the Arts as a classic American novel for The Big Read program and is taught regularly in high schools and colleges. An independent film adaptation of the novel was released in 2012 by writer and director Carl Franklin.
Rudolfo Anaya is the author of more than 15 novels and story collections, 10 children's books, multiple works of nonfiction, and several plays. The novels Heart of Aztlan (1978) and Tortuga (1979) complete a trilogy that began with Bless Me, Ultima. His work also includes the Sonny Baca quartet of detective novels, Albuquerque (1992),The Many Who Could Fly and Other Stories (2006), and Randy Lopez Goes Home (2011). Anaya's many honors and awards include the Premio Quinto Sol for Chicano literature, the National Endowment for the Arts (NEA) National Medal of Arts Lifetime Honor, the American Book Award from the Before Columbus Foundation, the People's Choice Award from the New Mexico Book Awards, and the Robert Kirsch Award for lifetime achievement from the Los Angeles Times.
Anaya graduated from the University of New Mexico in 1963 and returned as a professor in the Department of English Language and Literature from 1974–1993. "The English Department cherishes the fact that Emeritus Professor Rudy Anaya was on our faculty for so many years. A founder of our distinguished Creative Writing Program, he still inspires us with his joyous approach to life, sense of humor, and eloquent articulation of Hispanic culture and the beauties of the Southwest. He has long been an internationally known man of letters, but we take pride in the fact that he began his career in our department," says Professor and Department Chair Gail Houston. "We feel privileged to have received his generous donation, and we look forward to sharing this free event with everyone on campus and in the community. There is no better venue for celebrating Southwest literature than the UNM Department of English."
The valuable collections of the UNM Center for Southwest Research include the complete papers of Rudolfo A. Anaya, 1960–2004
The collection includes manuscripts of Rudolfo Anaya's published and unpublished work, materials from his career as a professor, and correspondence with colleagues and students, with a primary focus on Chicano/a culture and New Mexico's cultural landscape.
Show Your Support
To contribute to the Anaya Lecture Series on the Literature of the Southwest, or to support Hispanic students working towards a Master of Fine Arts in creative writing via the Rudolfo Anaya Fellowship Fund , contact the UNM Foundation directly via their secure giving website or at 1–800–UNM–FUND (866–3863).
For additional information about the Anaya Lecture series, contact anayalecture@unm.edu.