On Thursday, September 26th, the UNM Department of English will host the first of three symposia this Fall 2019 on Indigenous research, art, and activism in the Southwest. All symposia begin at 4pm and take place in the Bobo Room, located on the 3rdfloor of the Hodgin Hall Alumni Center, 1889 Central NE. They are free and open to the public.
Our first featured speaker is Dr. Lourdes Alberto, Associate Professor of English and Ethnic Studies at the University of Utah. Dr. Alberto is a Zapotec indigenous scholar, born and raised in Los Angeles, and her research interests focus on Indigenous and Latino/a Studies. She has published in Critical Ethnic Studies,Latino Studies, and in the volume Comparative Indigeneities in the Americas. Dr. Alberto's book, Mexican American Indigeneities, is a comparative study of Chicanas/Chicanos and Zapotecs, two transnational Mexican American populations whose discourses about indigeneity are indispensable to the construction of ethnic, political, and cultural identities of Latinas and Latinos in the US. The title of her lecture is "Trauma and Kinship: Mesoamerica in the Poetry of Ana Castillo and Natalie Diaz." The lecture is followed by a community-engaged discussion led by our own American Literary Studies faculty members and experts in Chicana/o and Native American Studies. Dr. Melina Vizcaíno-Alemán will moderate, and Drs. Bernadine Hernández and Sarah Hernandez will help facilitate.
The English Department is hosting this series of symposia in anticipation of its tenth annual Rudolfo and Patricia Anaya Lecture on the Literature of the Southwest. Mr. Anaya established the lecture series in 2010 through a generous gift to the English Department. A renowned fiction writer and founder of UNM's distinguished Creative Writing Program, Mr. Anaya is also an Emeritus Professor of English at UNM. His papers are held at UNM's Center for Southwest Research and Special Collections.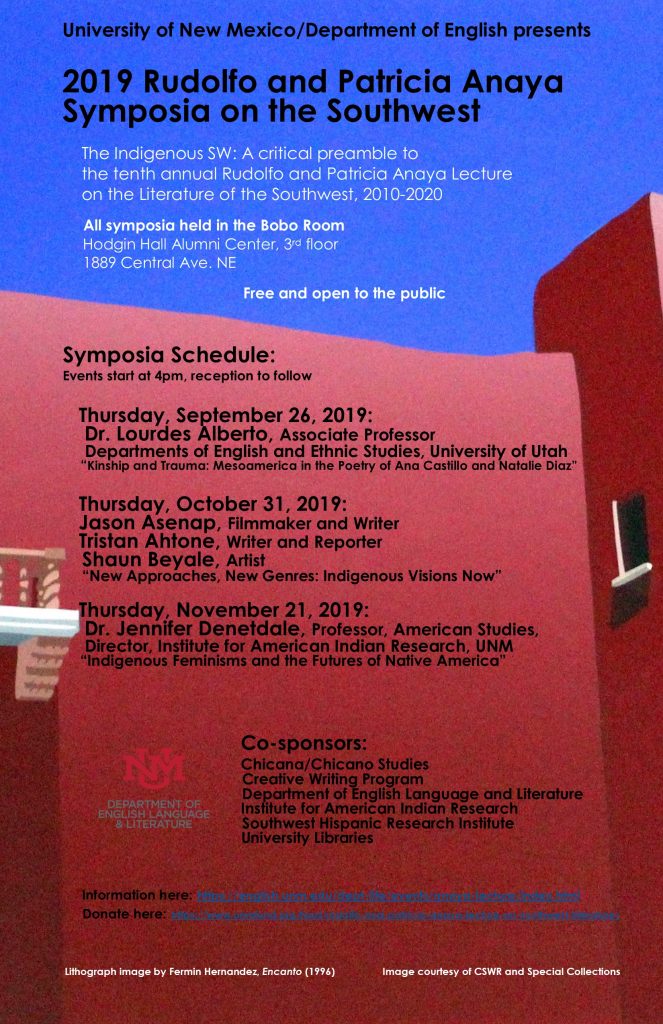 For more information about the lecture and series, visit the English Department's page for The Anaya Lectures.
To pledge your support for the annual lecture series, please visit the Anaya Lecture Fund, or to support Hispanic students in English, please contribute to the Rudolfo Anaya Fellowship Fund.
Thank you to our UNM co-sponsors for supporting the 2019 Anaya Symposia on the Indigenous Southwest: Chicana/Chicano Studies, Creative Writing Program, English, Institute for American Indian Research. Southwest Hispanic Research Institute, University Libraries.