The English Department has once again partnered with the National Hispanic Cultural Center (NHCC) to host a second annual film screening of Carl Franklin's 2012 film adaptation of Rudolfo Anaya's 1972 novel, Bless Me, Ultima. The film screening is free and open to the public and will take place on Friday, September 29 @7pm in the Albuquerque Journal Theatre at the NHCC, located at 1701 4th Street SW. There will be a pre-film reception and introduction by former NM Poet Laureate Levi Romero.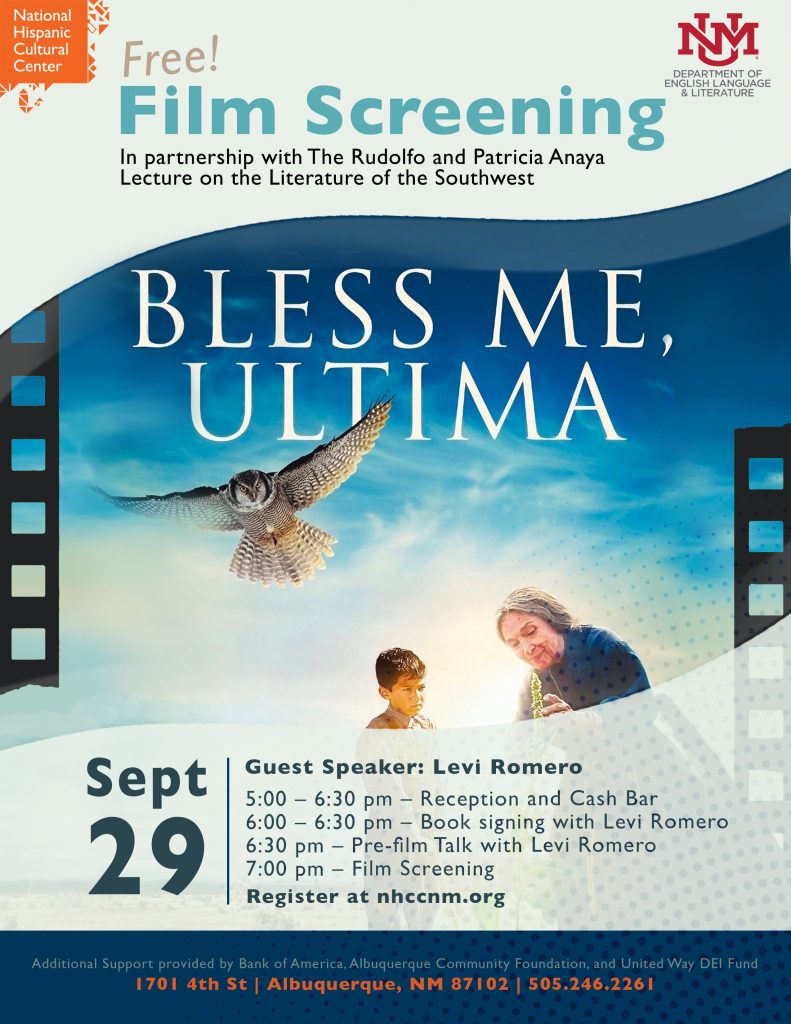 Bless Me, Ultima was first published in 1972 by Quinto Sol Press, during a time when Chicano literature was little-known in mainstream presses. In 1999, Grand Central Publishing picked up the novel and republished it with an Introduction by the author, where Anaya explains that he began writing the novel in the 1960s as a schoolteacher. "Pounding the keys of an old Smith Corona late at night" (vii), he says he received "many rejections" before finally sending it to "Quinto Sol, a small press out of Berkeley" (ix). Two more novels immediately followed, Heart of Aztlan and Tortuga,but Anaya admits that Bless Me, Ultima "remains the favorite" (x). Fifty years after its initial publication, Penguin Random House released a fiftieth anniversary edition of Bless Me, Ultima. The second annual film screening honors the novel's fiftieth-anniversary milestone once again during National Hispanic Heritage Month. 
The partnership between the English Department and the NHCC is made possible by the Rudolfo and Patricia Anaya Lecture on the Literature of the Southwest. Mr. Anaya founded the lecture series in 2010 with the promise to enhance an appreciation of the region's unique cultures. In honor of his life and legacy, UNM has dedicated a space, The Rudolfo Anaya Sala near the Center for Southwest Research & Special Collections in Zimmerman Library where the Rudolfo Anaya Papers rest. The Rudolfo Anaya Sala promises to be a public home for Mr. Anaya's memorabilia and other special collections, where students and community members can sit, reflect and learn more about his creative writing and work.