On Thursday, September 26, Dr. Lourdes Alberto delivered the first lecture in a series of symposia on the Indigenous Southwest. Dr. Alberto spoke about the uses of Mesoamerica in the poetry of Ana Castillo and Natalie Díaz, and she fielded questions from the audience with the assistance of Drs. Melina Vizcaíno-Alemán, Bernadine Hernández, Margie Montañez, and Sarah Hernandez. Other people on hand assisting the event were Kit Wilson, Rigina Wright, Lauren Perry, and Susan McAllister. A reception followed, with food and refreshments.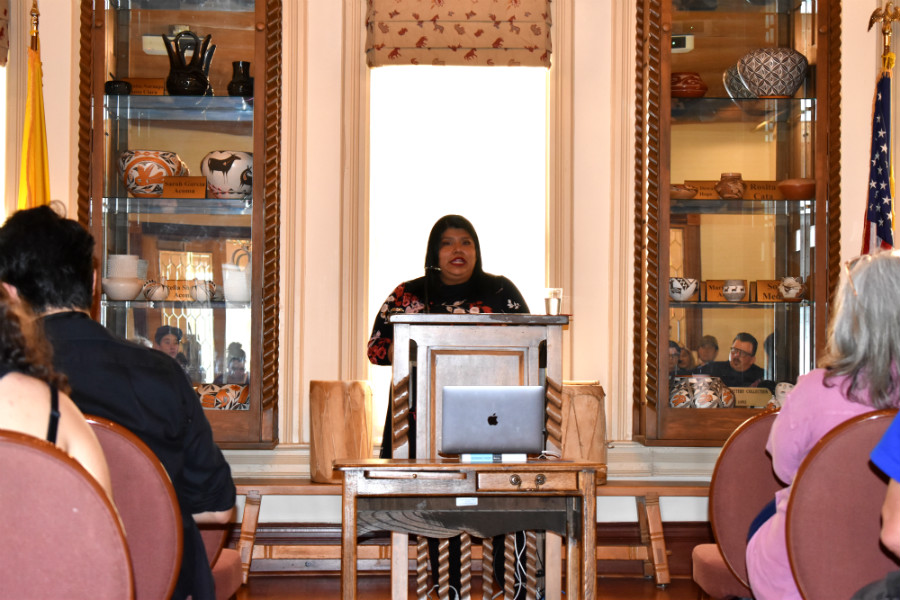 Our next symposium takes place on Thursday, October 31, "New Approaches, New Genres: Indigenous Voices Now," and will feature Jason Asenap, Tristan Ahtone, and Sean Beyale, a filmmaker, writer, and artist, respectively. Asenap is a Comanche and Muscogee Creek writer, director, and occasional actor based in Albuquerque, NM. Ahtone is a member of the Kiowa Tribe, Associate Editor for Tribal Affairs at High Country News, and president of the Native American Journalists Association. Beyale is of the Navajo Nation and an artist who does Illustrations, paintings, screen printing, and digital work. They will speak about how their work develops new forms of storytelling, from the written to the visual.
The 2019 Rudolfo and Patricia Anaya Symposia on the Southwest is a critical preamble to the tenth annual Rudolfo and Patricia Anaya Lecture on the Literature of the Southwest. Mr. Anaya established the lecture series in 2010 through a generous gift to the English Department. A renowned fiction writer and founder of UNM's distinguished Creative Writing Program, Mr. Anaya is also an Emeritus Professor of English at UNM. His papers are held at UNM's Center for Southwest Research and Special Collections. The tenth annual lecture will take place next Fall on October 1, 2020.
All 2019 symposia take place in the Bobo Room, located on the 3rd floor of the Hodgin Hall Alumni Center, 1889 Central NE. They are free and open to the public.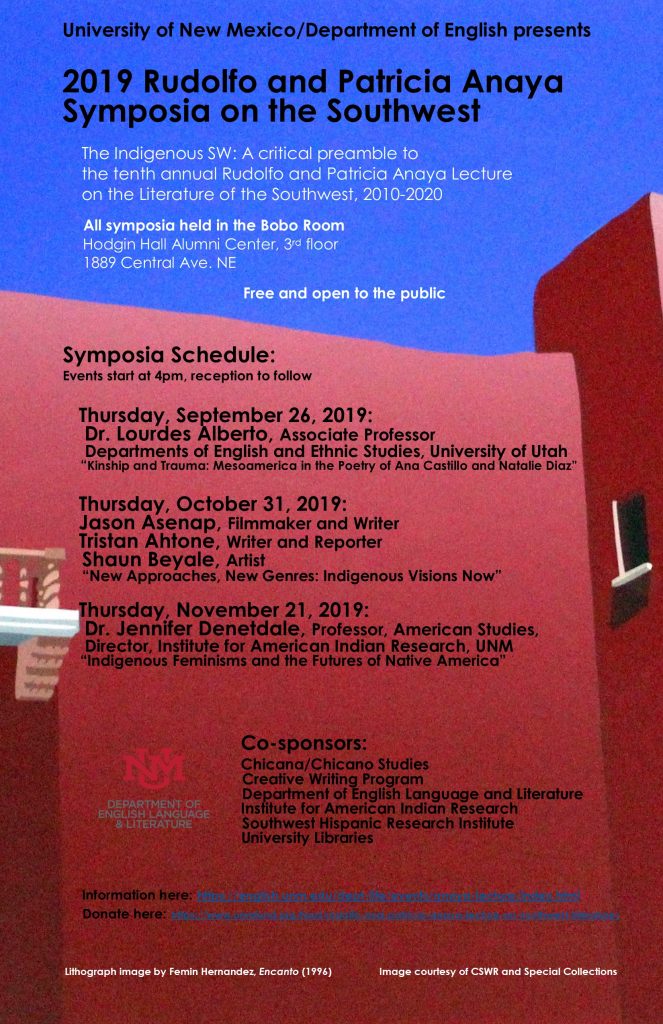 For more information about the lecture and series, visit http://english.unm.edu/dept-life/events/anaya-lecture/index.html.
To pledge your support for the annual lecture series, please visit https://www.unmfund.org/fund/rudolfo-and-patricia-anaya-lecture-on-southwest-literature/.
Thank you to our UNM co-sponsors for supporting the 2019 Anaya Symposia on the Indigenous Southwest: Chicana/Chicano Studies, Creative Writing Program, English, Institute for American Indian Research. Southwest Hispanic Research Institute, University Libraries.