The winners of the 2nd annual McKinnon Poetry Contest for undergraduate students at UNM recently read their winning poetry during the Undergraduate Open House.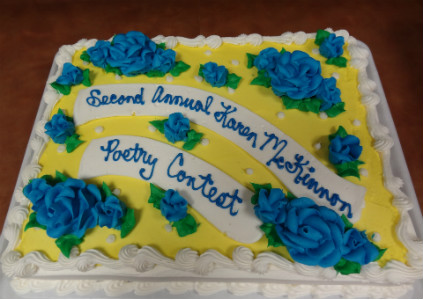 The 3rd place prize went to Maxine Porter for her poem, "Insiders." Porter is pursuing her Bachelors of English with a minor in History. She is a prose writer during the week and a poet on the weekends. Above all else, she is trying her best.
2nd place went to Christine Anderson, a graduating senior majoring in English and Theatre for her poem, "Wearing a Character." Anderson's passion is poetry, and as a result she seeks to umbue all she writes with poetic elements. Most of her work lately looks at the ways form and structure can be used to enhance image-laden poetry, despite some modern positions against form.
Erin Benton won 1st place for her poem, "Notes to Persephone." Benton is in her second year at UNM and is currently majoring in English. She has previously won the Lena Todd Award for poetry. She loves writing and storytelling in all forms, and is currently working on several different stories. She works as a home health care aid for children with special needs, and hopes to continue working in that field in the future.