Alumna Karen McKinnon, author of several books of poetry, recently made a substantial gift to fund an annual poetry contest for undergraduate students at UNM. The first contest was held this spring, and the 1st place winner was awarded a prize of $1000, 2nd place winner $500, and 3rd place winner $250. These winners were announced and read their poetry aloud at the Undergraduate Open House on Wednesday, April 12th in the English Department Lounge.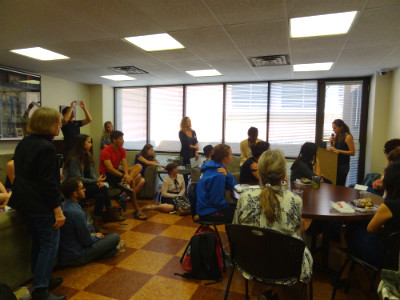 The 3rd place prize went to Carolina Bucheli for her poem, "Strangers". Bucheli was born in Guatemala, and grew up in Ecuador. She started studying psychology at the University in Quito, but transferred to UNM, and is currently studying English and Spanish literature, with a minor in journalism. In the future, she hopes to continue with creative writing and publish a book.
Daniel Porter received the 2nd place prize for, "Sing, Sweet Sunrise." Porter is an undergraduate student double majoring in English (American Literary Studies) and Religious Studies. He recently completed a Religious Studies Honors Thesis and may be undertaking an English Honors Thesis in the fall. An active member of Sigma Tau Delta International Honor Society, Porter is on course to graduate with honors next spring. Upon graduation, Porter plans to attend graduate school, complete a PhD, and eventually teach at the university level. He is grateful to the English department for its commitment to the preservation and promotion of Southwestern poetry and prose, which was influential in the production of his winning poem.
Kelen Mahan, who is exactly one month away from finishing 
his undergraduate degree at UNM with a double major in English and Philosophy, won the 1st place prize for his poem, "Papa". Though Mahan is planning to apply to MFA programs down the road, he will be taking some time off from school to focus on writing, playing music, reading, and waiting tables. In addition to poetry, Mahan enjoys writing essays that have nothing to do with English or Philosophy.