This week, the University of New Mexico's Department of English took their new website live, the first major overhaul of their main web presence since the department switched to the Cascade Content Management System four years ago. Here's what's new:
Information has been reorganized within pages, and those pages have been redesigned for navigability and consistency, making it easier to find that for which one seeks (and it also helps when using the site as a reference).
The so-called department blog has been moved from Google's Blogspot servers to a local installation of WordPress (this thing here that you're reading!). Past content will be migrated soon.
The department now has a wiki, which can be used to store and access any pertinent information. CAS login credentials are required to access the wiki, which means that all users must log in using their NetIDs (you'll receive an e-mail when you've been added to the system). Once in, users will be able to create and edit pages based on their status in the department (faculty, staff, grad student).
Other features, like the department calendar and the image carousel on the front page have been updated and improved.
An Alumni section of the site, where graduates of the English department can network and share their stories, is in development and will be available soon.
A new Department Life section will highlight the people who work, teach, and learn in the English Department at UNM. This section will include pages devoted to the various sub-disciplines in the English Department, their publications and professional achievements, and the events sponsored by English and its associated organizations.
Now with 100% more pirate squirrels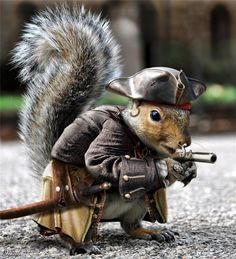 More information will be posted here, and you'll always be able to access the most recent stories from the intro banner on the front page of the English Department website.
There is still a lot of work left to do, of course, but development will continue in as timely a manner as possible. Should you have any questions or suggestions, please feel free to e-mail the Graduate Assistant at englishga@unm.edu.
Thanks, and enjoy the new site!