MFA Candidate in Creative Nonfiction, Cyrus Stuvland recently attended a writing residency in Nebraska and writes about their experience:
Earlier this month I got to attend my first ever writing residency at a place called Art Farm, a strange little oasis in between fields of corn and soy near the tiny town of Marquette, Nebraska.
I stayed in an old Victorian style farmhouse dubbed Victoria that had been abandoned on another farm for about 50 years before it was moved over to Art Farm and turned into living quarters. Most things arrive on Art Farm like this—someone else's trash gets turned into a living or working space by and for artists. Though it is called a farm, the real work of the place is just maintaining the studios and living quarters and the 10 or so acres of trails that wind through tall grasses and mulberry trees to various structures.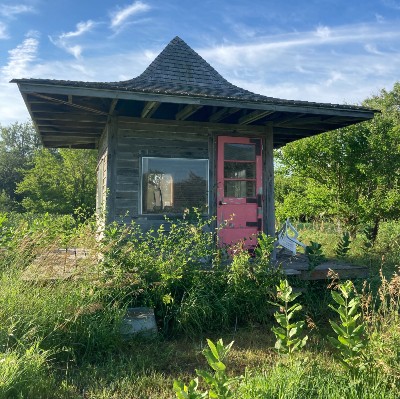 I was there with visual artists, writers, filmmakers, fiber artists, sculptors, you name it. One couple was there making a giant single-note wooden instrument. There was a writer who wrote an essay about lamps then pasted it on the walls of the bathroom. Installations like this were common; I left one too.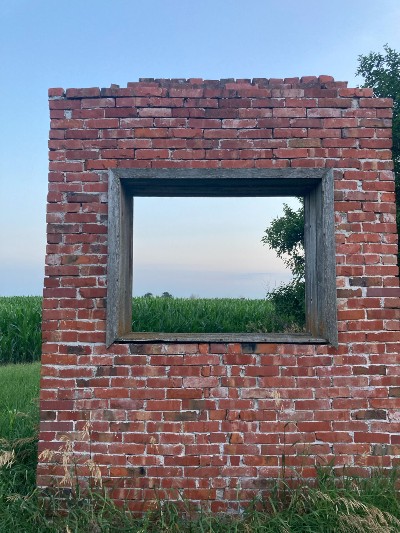 Every morning around 9 we'd meet up with Ed, the director of the farm and the man who inherited it and turned into what it is now, to discuss our work projects. My first day's project was cleaning possum poop up from under the floorboards of a studio. One day I went with a carful of people to a nearby town to get a piece of old printing equipment for the Art Farm print shop that's being set up this summer. We spent all afternoon trying to figure out the best way to get the enormous, heavy piece of equipment onto a pallet jack and from there, up a ramp we'd built into a pickup.
After the allotted three hours of work from Monday – Thursday, I'd grab some books and my laptop and head out to the little camper that had been turned into a studio near a structure known as the Barns because it was made up of several barns combined. I would write for a few hours, read for a bit, maybe collage or play in the woodshop, then usually chat with other residents over food or drinks. That, I think was the real magic of Art Farm—the impromptu conversations and connections we made. There was a reading and gallery night where we visited each other studios, but more often the sharing was unplanned. My second night there a sculptor made a cast out of my butt. One morning we were late getting to work after a spontaneous discussion on what it meant to "requeer" something over funfetti pancakes. Even though I'm still struggling to understand the shape of what I'm writing right now, I got a couple great leads for my dissertation—books and artists I'd never heard of—from fellow artists and writers. It was energizing to be in such a shared creative space and hear about what others were working on—which was everything from giant, one-note wooden instruments to films about gay cowboys.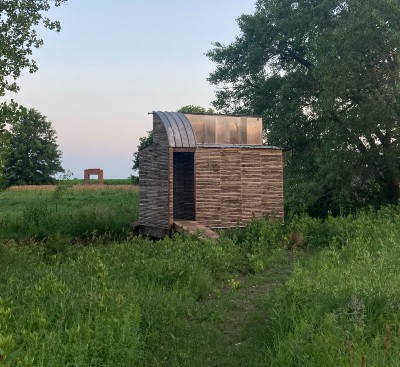 When my two weeks were up I was sad to leave, wishing I could push back my departure. Apparently this is common. People get sucked into Art Farm, not wanting to say goodbye to how the time moves there—slow and full. There was a painter in Victoria who woke up every day thinking she might leave. She'd been there since April and to my knowledge is there still. It just feels easy to settle in and not think too far off.
Needless to say, I'm planning on applying again next year and I encourage other MFA students to as well.